Completed in 1599, the Cathedral of the Yucatán in central Mérida is the second-oldest cathedral in the New World, beaten out only by the Dominican Republic's Santa María la Menor. Four hundred years after its founding, this incredible church is still the focal point of the city.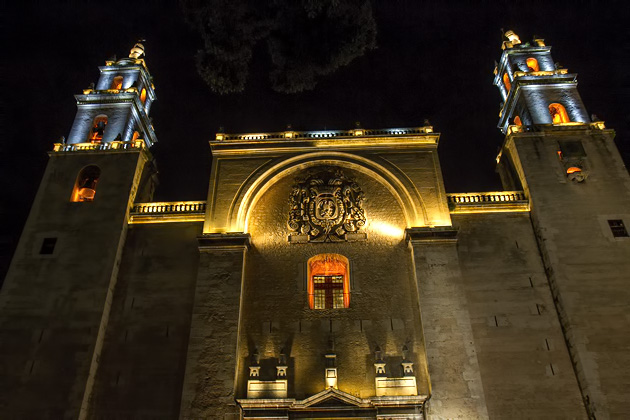 Apart from its tremendous size, the cathedral's most striking aspect is its sobriety. The facade is almost completely free of adornment or ornamental flourishes. Maybe the Spaniards didn't want to overwhelm the local Maya. To these people who still lived in thatch-roofed houses, the church's size and architectural sophistication must have been impressive enough.
Once through the doors, the somber tone established by the stone facade continues. No paintings line these walls, nor is there a glorious fresco looming overhead. There's no gilded altarpiece, no baroque choir of terracotta angels, no baptismal font of purest silver. Even the giant Jesus crucified above the altar is made of plain wood. At seven meters (23 feet) in height, this is said to be the largest wooden crucifixion inside any church in the world.
The cathedral is always busy with worshipers and fills up completely during mass. If attendance is anything to go by, Meridians are the most pious Catholics we've ever encountered; similarly-sized churches in Spain or Italy are usually empty. During our visit, most of the faithful were congregated in a small chapel to the left of the altar, where hangs the charred-black Cristo de las Ampollas (Christ of the Blisters). This haunting sculpture is the most venerated object in Mérida, carved from a tree which, after being struck by lightning, burnt miraculously for 24 hours without being consumed.
The cathedral, consecrated to Saint Ildefonsus, is found on the eastern side of Mérida's Plaza Grande, and makes a great place to start an exploration of the city. The best time to visit is between eight and ten on a weekday morning. There will still be worshipers, but in these hours before mass, wandering around and snapping photos is less conspicuous.
–Book Your Mérida Car Rental Here