The Plaza Grande and the Casa de Montejo
The Plaza Grande is the heart of Mérida, and an exhausting day of sightseeing can be had just by touring the buildings which surround it. After visiting the city cathedral on the east and the Palacio del Gobierno on the north, we cut straight across the plaza to check out the Casa de Montejo on the plaza's southern edge.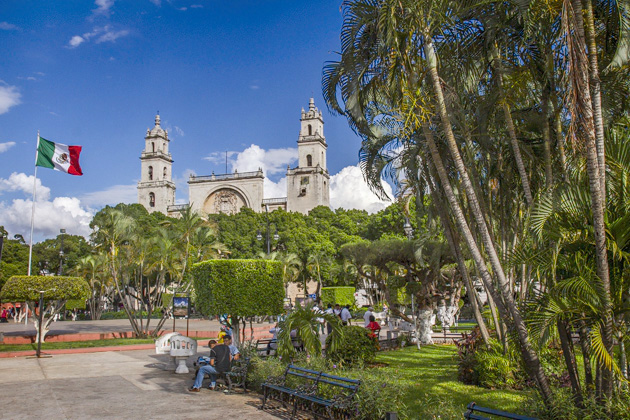 Known officially as the Plaza de la Independencia and alternatively as the Plaza Mayor, the Plaza Grande is by far the best spot to become acquainted with Mérida. Whether to enjoy an ice cream in the shops around the plaza or to while away the hours in the shade of a tree, this is the city's principal meeting spot. Mérida's oldest buildings are here, as well as its only scam artists: affable fellows who approach you with small talk, before offering to walk you over to "the most authentic crafts shop in town".
(Amazingly, the friendliness for which Meridians are known appears to apply even to its scammers. A simple "No, thank you" will usually suffice, and then they'll politely say goodbye and leave you alone. The first time it happened, I couldn't believe it. I wanted to call the guy back and insist that he try harder.)
The Plaza Grande is large, filled with trees and benches, but it's usually so crowded that finding a shady place to sit down can be difficult. If you're lucky, you'll find a spot on one of the many "lover's chairs" which are found not just here, but on every plaza throughout Mérida. These are benches built for two, allowing lovebirds to sit facing each other.
Built in 1549, the Casa de Montejo sits on the southern side of the plaza. Perhaps it's unsurprising that the house built for the conquistador of Mérida should be the best in town. Descendants of Montejo lived here right up through the 1980s, but today it's open to the public as a museum. The house retains some period furniture and is remarkably quiet considering the never-ending chaos right outside its doors.
Location of the Casa de Montejo on our Map