Isla Mujeres' Garrafón Castilla
When you're on Isla Mujeres, there's really only one decision with which you'll need to trouble yourself: of all the tantalizing options, where should you plop down your butt for the entire day? We chose Garrafón de Castilla, a small beach club on the southern end of the island.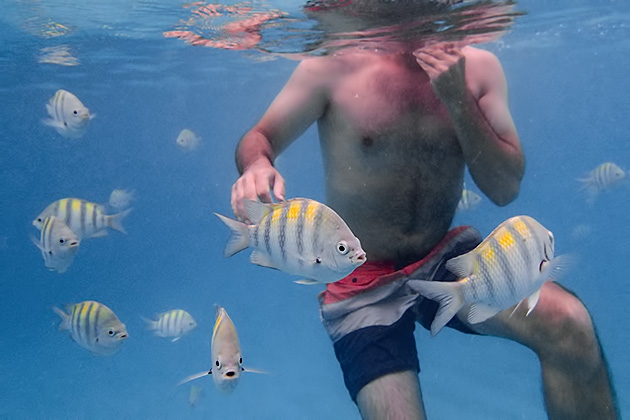 Garrafón de Castilla is named for the reef just offshore, and is not to be confused with nearby Parque Garrafón. The latter is an expensive theme-park type experience, featuring attractions like zip lines and swimming with dolphins. Garrafón de Castilla, on the other hand, is a small beach with snorkeling and a 50 peso ($4 USD) cover charge. Sand, water and sun is all we wanted.
Our day at the beach went like this: lay on a chair, snorkel a bit, lay on the chair some more, eat, snorkel, and chair (this time falling asleep). Perfect. The snorkeling was a lot of fun; despite its proximity to shore, the reef is in decent condition. We saw lobsters, a manta ray and too many colorful fish.
No really, there were way too many colorful fish. The club sells fish food along with its snorkel gear and so, even though we weren't feeding the fish, they've come to recognize snorkeling humans as floating feed machines. It was initially cute, but quickly got weird, and then kind of scary. I could not escape this swarm of little yellow fish, and they were starting to look impatient.
Still, too many fish is hardly a real complaint, and overall Garrafón de Castilla offers a wonderful day out, especially considering the price. If you're looking for a relaxing spot to chill out in the sun, you can't do better than this.
–I took the underwater video with this camera!