Where to Eat in Puerto Morelos
For such a small town, Puerto Morelos has a number of great places to grab a bite. There were a few we loved so much, we returned to them over and over again. Here are our favorites, and one that we would urge you to stay away from.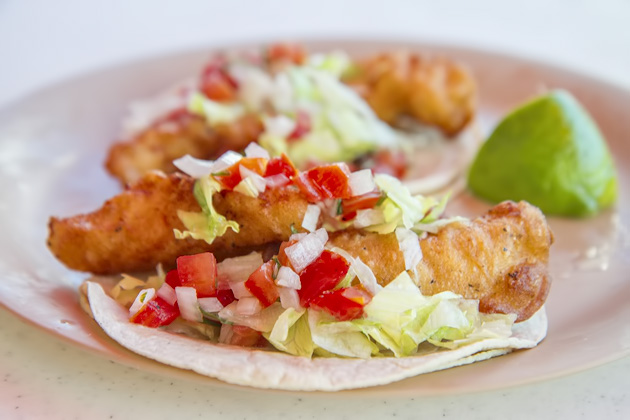 Our unofficial office for the week was at Restaurante La Pirata. When we're traveling, it's always difficult to find a comfortable place in which to work, so we were thrilled to discover La Pirata. Speedy internet, friendly service, and a pleasant and relatively quiet atmosphere. Great food, as well. Apart from our hotel and Wet Set, this is where we spent most of our time during the week. [Location]
To eat like a local, head to Mimi's, where the tables are packed, decor is kept to a bare minimum, and the tostadas are delicious. Outrageously so. Seriously, outrageous. After biting into one of Mimi's tostadas (which cost next to nothing, by the way), I was outraged. How dare they make something so good?! I was furious. Those incredible tostadas covered with insanely delicious beans and perfectly seasoned meat… damn you Mimi, where do you get off?! I'll have three more. [Location]
For great value set lunches on weekdays, our favorite was Al Chile. For about $5 USD, you get an appetizer, main dish and drink. The place is cute and the food is great. And if you get sleepy after such a big lunch, grab a cup of the best coffee in town at nearby Cafe de Amancia, on the corner of the main plaza. [Location]
If you're in the mood for amazing fish tacos, search out Caribe's, a small and speedy cafe near the water. When we ate there, a group of kids was playing around our table and teasing us, but the fish tacos I was scarfing down were so good, I likely wouldn't have noticed if they'd been smacking my head with baseball bats. [Location]
With so many good restaurants to choose from, you have no excuse to waste your time at Olé, on the "other side" of town away from the beach. Our hotel warned us that they have a reputation for ripping off foreigners, but we went anyway. It looked like such a cool little place! The food was alright, but unspectacular and, as warned, our bill was more than double what it should have been.
–Great Place To Stay In Puerto Morelos