It's always had stunning beaches, but Playa del Carmen had to wait until the 1990s before it was discovered by tourists and developers. The once sleepy fishing village is today a bustling city catering to club-hopping party people and sun-hungry Europeans. We spent two days here and really enjoyed ourselves.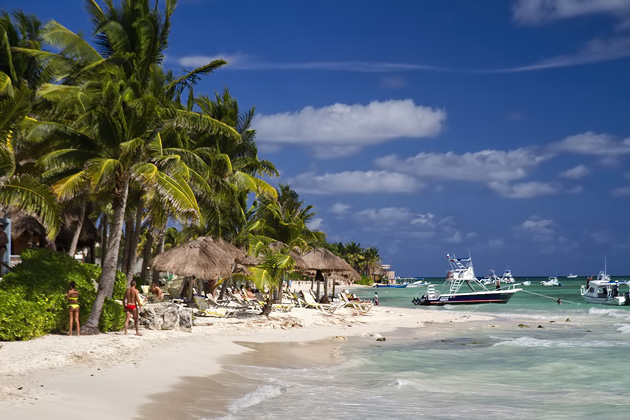 Playa (as it's usually referred to) is a strange city, defined by a few distinct zones strung out along the coast. We were staying in Playacar, on the southern end of town. This is an enormous gated community, with security guards on every corner and frequent checkpoints to keep out "undesirables". Even taxi drivers have to register at the checkpoints. There are fancy hotels, golf courses, and a lot of deferential "Yes sir, right away sir." This will appeal to some, but we hated it. You could spend a week in Playacar, and never have anything to do with the real Mexico.
North of Playacar, the tourism zone of Playa del Carmen begins. Especially along 5th Avenue, just off the beach, tourists are harangued ceaselessly by shops touting Cuban cigars, sunglasses, t-shirts, very nice t-shirts, very cheap for you mi amigo, what you don't like t-shirts, come take a look, maybe you like something else amigo? But you can simply escape it by walking along the beach, which is fabulous. Beautiful blue water and soft sand. During our visit in mid-November, high season was just kicking into gear, and we found the beach perfectly crowded. Not too many people and not too few.
The atmosphere only improves as you continue north. Soon, you'll reach Playa Norte, where the touts dare not venture. Here, Playa suddenly becomes much more chill, much more pleasant, with great garden cafes and restaurants, as well as popular beach clubs. We grabbed a spot on the beach, played in the water for a bit, and relished in the gorgeous coastal views.
We didn't have a long time in Playa, but we did discover a couple great restaurants. A friend who lives here brought us to her favorite restaurant: El Fogón. If you like perfectly prepared, no-nonsense Mexican food like tacos and fajitas, don't miss it. Just the thought of their quesadillas arracheras still makes me drool. Another fun spot was La Cueva del Chongo, near the beach at Playa Norte. Its nicely-shaded garden interior is perfect for escaping the sun. The food is excellent and its not all that expensive, considering the location, ambiance and quality.
Playa del Carmen could make for a wonderful vacation, if you know where to stay and which places to avoid. Try and find a hotel as far north as possible, ideally situated near Mamita's Beach Club, which seems to be Playa's nexus of cool. Only go down 5th Avenue if you're prepared to be haggled, and make sure to spend some time walking around the blocks farther inland, where you can find cheap meals and an appealing local atmosphere.
–Great Hotels In Playa Del Carmen