Mérida – Capital of the Yucatán
A gorgeous colonial-era city of nearly a million people, Mérida is the capital of the Yucatán and was our home for three months. Despite its size, it's mostly overlooked by travelers. In fact, before deciding to move to the Yucatán, we had never even heard of it! But Mérida is an invigorating city filled with historical sights, hectic markets, friendly locals, relatively few foreigners and an impressive cultural life.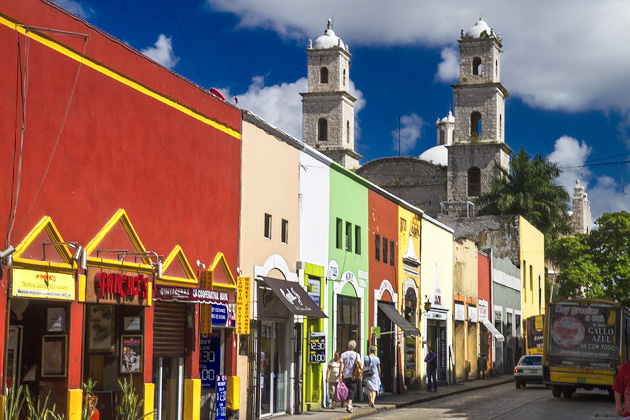 Mérida was officially founded in 1542 by the Spanish conquistador Francisco de Montejo. A Maya city named T'Hó had previously occupied the location, but by the time of the conquest, its pyramids were already in ruins and the remaining indigenous population were living in straw huts. Although Montejo and his men encountered fierce resistance, they were able to quickly subdue and dominate the out-gunned locals.
From the very beginning, the Spanish intended Mérida to be capital of the Yucatán. Its development followed a very structured layout, with a grand central plaza where the pyramid of T'Hó once stood. An enormous cathedral, just the second in the New World, was constructed on the east side of the plaza. To the north, the governmental palace was built. To the west, the Imperial Palace. And a marvelous residence for Conquistador Montejo himself on the plaza's southern side. With this Plaza Grande as its nexus, the city sprawled out in every direction.
Despite its capital-city status, Mérida remained a relative backwater for most of its history. No highways connected it to the rest of Mexico, and a perceived lack of natural resources held its growth in check. That changed in the late 18th century with the "discovery" of henequen: a high-quality fiber made from agave. The "green gold" brought unheard-of riches to the Yucatán and Mérida expanded rapidly, becoming the first city in Mexico with street lighting and cable cars. Culture flourished, and the downtown was completely renovated. Of course, while Mérida's lords and ladies were enjoying their exciting new wealth, the Maya (who had been using henequen for centuries) were being exploited worse than ever.
With the invention of artificial fibers, the henequen boom petered out and Mérida settled back into its regular rhythm. The traces of its former glory, however, remain. Mérida has an uncommonly active cultural and intellectual scene and its historic center is one of the largest in the Americas, with beautiful colonial buildings on every block. Throughout the week, there are free musical performances downtown. Crime is rare, with violence toward tourists practically non-existent, and Meridians themselves are about the most laid-back and friendly people imaginable.