Mérida's Free Entertainment
Of all the things Mérida has to offer — lovely plazas, great food, fascinating museums and friendly people — perhaps the best is its astounding cultural program. We've never lived in a city as dedicated to the arts, or as devoted to preserving its cultural heritage. Almost every night of the week, you can catch a free performance.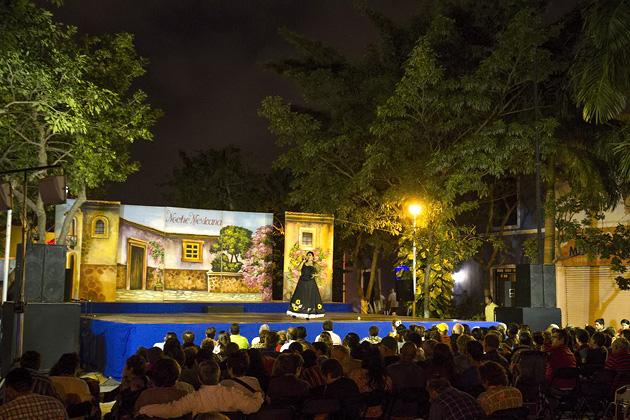 At the foot of Paseo Montejo, near the Plaza of Santa Ana, a stage is erected every Saturday night for the Noche Mexicana. You can sit here for hours tapping your feet along to the sounds, styles and dances of Mexico. There's a constantly changing line-up, as singers and troupes from across the country are invited to participate.
On Thursday, head over to the Plaza de Santa Lucia for the weekly Serenata Yucateca. This is perhaps the best-known of Mérida's free concerts, and has been inviting the peninsula's most famous composers and musicians to the stage for the past forty years. The crowds arrive early, with the best spots being claimed an hour in advance.
On Monday evenings at 9pm, the Vaquería takes over the street in front of the Palacio Municipal. This colorful dance has its origins in the Yucatán's colonial days. Once a year, villagers across the peninsula were permitted by the Spanish elite to celebrate a fiesta. The wives of the local cowboys (vaqueros) were in charge or organizing the festivities and would don their most elaborate dresses, before leading their husbands in the dance.
After watching all these concerts, you might feel like breaking out your own dancing shoes. In that case, head to the Plaza de Santiago on Tuesday night for the Remembranzas Musicales. Here, in one of Mérida's most beautiful plazas, bands play the greatest hits of the Yucatán while hundreds of locals clasp hands and dance the night away.
These are just the main offerings on a city-sponsored cultural program so jam-packed that it almost beggars belief. It's a good idea to head over to one of the city's tourism offices to ask about the upcoming events (we prefer the office in the Palacio del Gobierno). Unless you're a stick-in-the-mud, you'll almost certainly find a show that interests you.