The Parque Centenario & Mérida's Zoo
It's a considerable hike from the center, but the Parque Centernario (Centennial Park) on the west side of Mérida certainly warrants the effort, or the cost of a taxi, if only to visit the city zoo, which hosts a surprising number of exotic animals.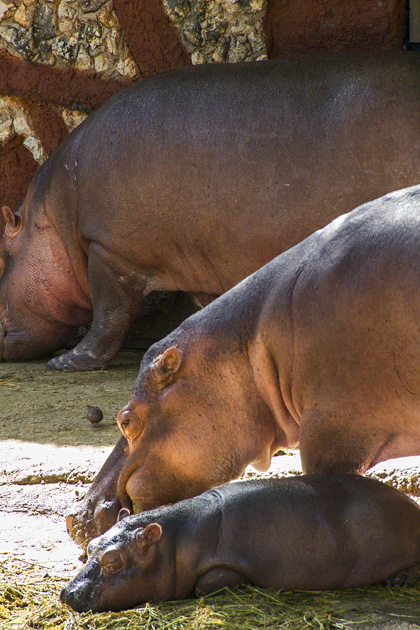 The zoo in the Parque Centenario is free to visit, which made us a bit nervous. While I generally love free stuff, I couldn't help but wonder how well animals could possibly be cared for in an open, public zoo. Indeed, Mérida's isn't exactly a glorious Garden of Eden in the vein of San Diego's or the Bioparc in Valencia, Spain. No, this is the kind of run-down and cramped operation which will probably make you a little sad.
Luckily, we were squarely still in our honeymoon phase with Mérida, and the city could do no wrong. So the fact that the hippos were confined to a tiny muddy pool didn't really bother us. But the fact that there were hippos… thrilling! I hadn't come to Mérida expecting to see animals ranging from chimpanzees to African lions, crocodiles and Burmese pythons, but they were all here and we had a blast touring the exhibits.
The zoo is just one piece of the Parque Centenario, a popular place for Meridianos to spend a weekend afternoon with the family. Since it was a sunny Sunday when we visited, the park was in full swing. There were pony rides, trampolines, bouncy castles, food stands, and thousands of screaming children. It was chaotic, but completely entertaining. This isn't a park with a lot of green areas. In fact, it's not a "park" at all, in the way I understand the word. There's no place to have a picnic or play soccer, but there are plenty of places to have fun.
Throughout the day, we didn't see another foreign face. It's a 20-minute walk from the Plaza Grande, which is apparently enough to discourage most tourists. If you want to visit a different side of the city and see how locals enjoy themselves, check it out.