Puerto Morelos: Chilling in the Shadow of Cancún
After a week in Mérida, we took our first road trip, venturing east to the neighboring state of Quintana Roo. But unlike the majority of visitors to Mexico's Caribbean coast, our destination wasn't the party mecca of Cancún. Instead, we hopped a bus headed for the quiet village of Puerto Morelos, about a half hour south.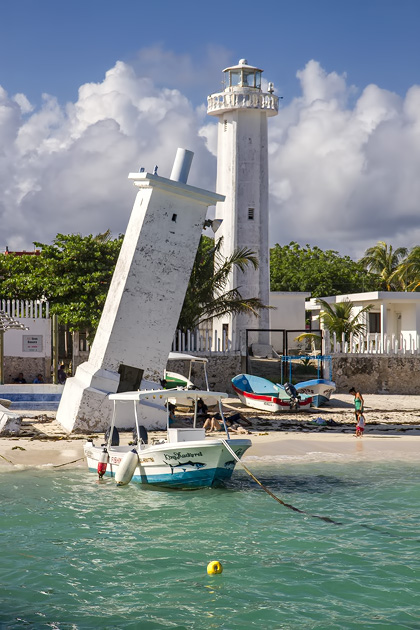 With an agreeable blend of locals, expats and tourists, the small town of Puerto Morelos is found directly between Cancún and Playa del Carmen. But in spirit, it's worlds away from either. No clubs in Puerto Morelos will blast their speakers until dawn, and there's not a theme bar in sight. And since we were hoping to complete a scuba certification course, a task requiring a lot of study, work and rest, the relaxed vibe was exactly what we wanted.
Puerto Morelos is split cleanly in half by the highway which runs north-south along the coast. The side closer to the beach is the tourism zone, with restaurants, souvenir shops and a large population of American and Canadian expats who have moved in for good. The other half, referred to as La Colonia, is where the majority of locals live. We were usually on the beach-side of town, but spent our nights in La Colonia, in the Casitas Kinsol. The division between the two sides of town is real; moving between them requires a trip of two kilometers through a swampy marsh, but a taxi only costs about 25 pesos ($2 USD) each way.
Although we eschewed our characteristic program of sightseeing in favor of learning how to dive, we became very familiar with Puerto Morelos during our week there. It's not a town which will appeal to those looking to dance the night away, enjoy a luxurious weekend at a high-end hotel, or mack on sexy bikini bunnies. But if you want a quiet vacation on a gorgeous beach, delicious and affordable food, friendly locals and excellent diving, you could hardly do better.
–Great and affordable place to stay in Puerto Morelos