More Diving in Puerto Morelos
We'd had such a great time learning how to dive in Puerto Morelos, that we couldn't resist making a return trip to see our friends at WetSet and to get back into the water.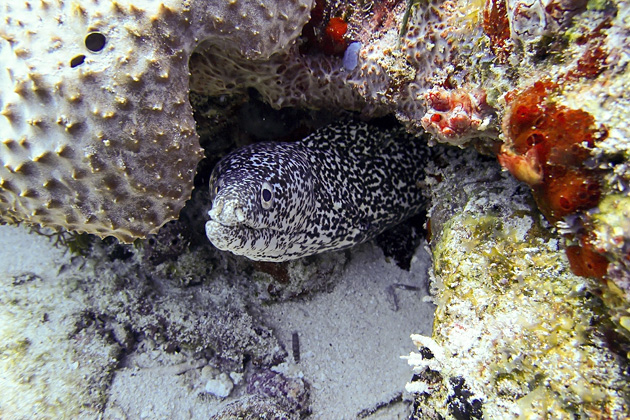 It's hard to imagine a better spot for a novice diver than Puerto Morelos. The reefs are a perfect depth, at around fifteen meters. Not too shallow, not too deep. The water is generally calm, with good visibility. The amount of underwater life is stunning, and you don't have to venture all that far off-shore. My only worry is that by learning how to dive here, we've spoiled ourselves. Future dives at other locations are almost guaranteed to be more difficult and less amazing.
We showed up early, happy to see the team at WetSet, whom we got to know fairly well during the certification process. Today, though, there would be no books nor studying involved; we would just be diving for fun. After picking out a couple routes with promising names, Aquarium and Fish Market, we donned our gear and set off in the boat.
Aquarium and Fish Market. You might assume that with names like these, we'd be seeing a lot of fish. And you would be correct. On our first descent, I almost came down right on top of a stingray and just a few meters away, a giant puffer fish was nervously monitoring our incursion into his underwater home. The most exhilarating sighting of the day was a massive moray eel… without exaggeration, it had to be three meters long. (The great thing about diving? When terrified, you can go right ahead and pee yourself).
We can't recommend WetSet enough. Such cool, relaxed and fun people. If you want for an excellent shop with whom to do some easy and affordable diving in the Caribbean, head to Puerto Morelos and look them up.
–Sign Up For The Explorer Coverage To Insure Your Diving Trip!