Mérida's Paseo de Montejo
One of the best reasons to travel is the opportunity to challenge your poorly-held assumptions and purge yourself of them. A child of the US Midwest, I grew up with the vague concept of "Mexico" as a dry, dusty place where poor people lived simply. This idea was embedded into my subconscious by a lot of factors: mainly, our proudly ignorant American culture, and a media overly reliant on stereotypes. By watching The Three Amigos and Speedy Gonzales, I learned to identify Mexico as a mud-walled hut with chickens pecking in the dirt.
If someone had taken me, as a child, on a stroll along Mérida's Paseo de Montejo, and then revealed that we were in Mexico, I would have refused to believe it. My brain would have shut down.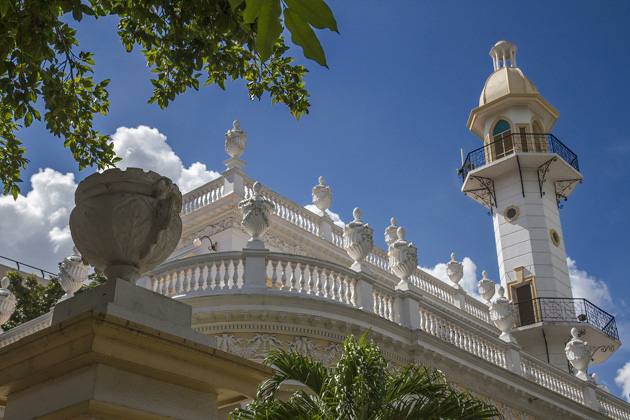 The wide, tree-lined Paseo de Montejo is Mexico at its most extravagant. Along either side of the broad boulevard, mansion after mansion fight for prominence, each more ostentatious than the next. Today, they've been converted into museums or banks, but these were once the homes of Mérida's richest families. As we walked down the long, shaded sidewalk, I could hear the bewildered child inside me screaming "You're not in Mexico!"
The mansions along the Paseo de Montejo are a product of the Yucatán's nineteenth century henequen boom. Suddenly among the richest cities in the New World, Mérida put its newfound wealth to good use. No, not by caring for its poor or anything silly like that. I mean the showy, selfish sort of "good use": by building fabulous homes for the landholders and the elite.
The money eventually stopped flowing, as it always does, but the mansions are still in good condition. We poked our heads into a couple that are now museums and banks, and were astounded by their beauty. At the northern end of the boulevard, our long walk was rewarded by the Monumento a la Patria (Monument to the Motherland): a neo-Maya sculpture built in 1956.
Strolling along the Paseo is one of the most pleasant ways to spend an afternoon in Mérida… especially if your subconscious is holding onto any stereotypes of "dirt poor Mexico" of which you'd like to rid yourself.
Location of the Monumento a la Patria
–Join The Orbitz Rewards Program