Cozumel – Island of Swallows, Scuba and Cruise Ships
Almost ten years ago, we took a cruise leaving from Miami. Turns out, and we might have suspected as much, Jürgen and I are not cruise-people. We found it to be a week-long exercise in boredom, and even the scheduled stops were agonizing. Pushy vendors in Jamaica, Margaritaville in the Caymans, Bingo on-deck. Luckily, there was one bright spot on the itinerary: Cozumel. We had a fantastic time during our day on the Mexican island, and vowed to return one day. A decade later, we made good on the promise.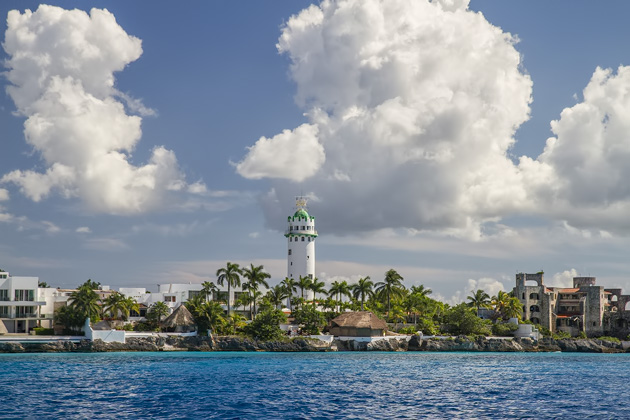 Found just a few kilometers off Mexico's Caribbean coast, straight across from Playa del Carmen, Cozumel is home to 90,000 people. But the population swells to twice this number almost every day, thanks to the cruise ships which call into port. While arriving on the hour-long ferry from Playa, we counted six gargantuan boats lining the island's shore.
The name "Cozumel" comes from the Mayan Kùutsmil, which means Island of Swallows. Associated with the fertility goddess Ix'Chel, the island was famous across the Maya world as a place of pilgrimage and worship. But by the time of the Spanish Conquest, the culture had already fallen into ruin and there remained but a handful of indigenous people to greet the newcomers.
Today, Cozumel has been invaded by a different kind of conquistador: pleasure-seeking cruise-shippers, tens of thousands of whom arrive every morning, then leave as the sun goes down. The crass commercialism which goes hand-in-hand with this kind of tourism dominates the ocean-side streets of San Miguel, the island's main city, but we had very little to do with it during our week on the island. Cozumel revealed itself to be much larger and more diverse than we had reason to expect.
The island is perhaps most famous for its scuba diving. With healthy coral reefs and crystal-clear water lining its shores, the diving at Cozumel is some of the best and most accessible in the world. We would take advantage of this, and also be introduced to some of the island's other, lesser-known sights, including lagoons, horseback riding, jungles, Maya ruins, incredible restaurants, and even a working pearl farm.
We spent seven days on Cozumel as the guests of the island's tourism commission, who were eager to show off how rewarding an extended stay on the island can be. Cozumel gets plenty of tourists, but not many stick around for more than a day. And that's a mistake.