Oxcutzcab and the Ruta Puuc
Some of the Yucatán's most impressive Maya ruins are laid out in a convenient row along the Ruta Puuc. Beginning in the village of Oxkutzcab, we made a rough semi-circle to the south and west, visiting caves, an eco-museum dedicated to cocoa, and five archaeological sites, among them the ruins of Uxmal.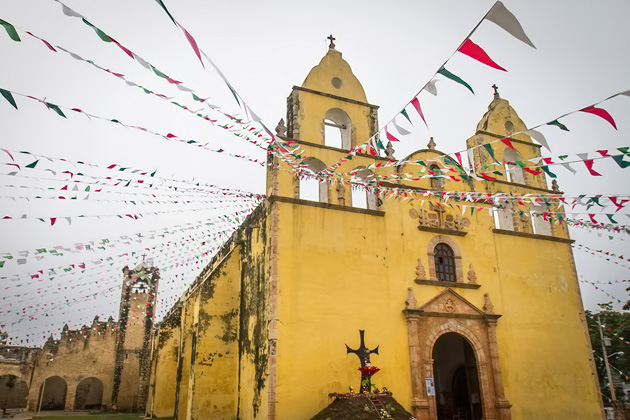 The Puuc-era Maya, who flourished between AD 800 and 1000, situated themselves around a fertile valley of the same name (pronounced, by the way, like "pook" and not "pooch", as we had been saying). The largest of the Puuc cities was Uxmal, though there were other major population centers such as Kabah and Sayil.
With an itinerary that included five archaeological sites, I thought we had planned a comprehensive tour of the region. But that was only until we were shown a map of all the ruins that have been discovered in the Puuc Valley. There are hundreds, and archaeologists are still uncovering more.
We stayed the night at Oxkutzcab, about 90 minutes south of Mérida, a pleasant town and the Yucatán's citrus capital. With crates upon crates of oranges, lemons and limes packed up and bound for Mérida, walking around the morning market was a rich olfactory experience. It takes place every day in the main plaza of the town, directly across from the cathedral. The prime location underscores the importance of the citrus trade to Oxkutzcab.
With our busy Ruta Puuc itinerary, we didn't have enough time to properly explore the town. But after visiting the market, we did track down an interesting old railway station, which dates from 1947 and was built in a faux-Maya style, complete with replica masks of Chaac, the rain god. It's a shame that rail service has been suspended; rumbling through the jungle in an antiquated train would be an unforgettable way to experience the Yucatán.
Location of Oxkutzcab on our Map
–No Hidden Cost Car Rental Company Yucatan