A Quick Trip to Historic Maní
After visiting the ruins of Mayapan, we made our way south to Maní. This tiny town is famous across the peninsula for its cuisine, but it was also the scene of one of the Yucatán's darkest moments.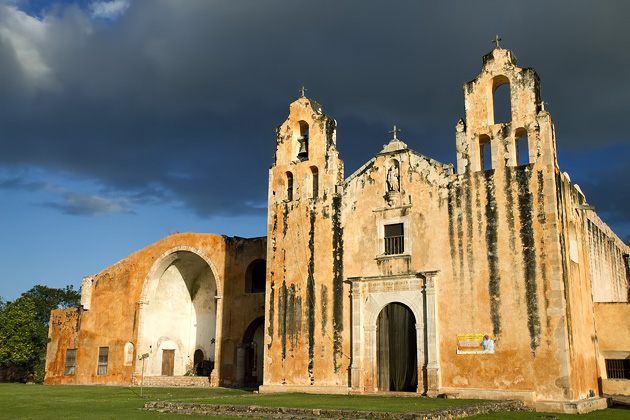 If you're about to tour the Yucatán by bus, make sure it's not a Sunday. Or at least, not the Sunday before Christmas. Getting from Mérida to Mayapan wasn't bad, but continuing to Maní was a nightmare. The 24-kilometer journey took more than two hours of waiting and transferring; the service was not just infrequent, but achingly slow.
Our eventual return to Mérida took three hours, since the bus looped into every tiny town and stopped for anyone who waved. There were people waiting for the bus on almost every corner. So we'd stop and pick up new passengers, and then ten seconds later, stop at the next corner. And then again, ten seconds after that. It was infuriating. Designated bus stops seem to be a concept absolutely unknown to the Yucatán. (Hey people, I've got a crazy idea that will save you so much time.)
When we finally arrived in Maní, we were starving, and made a beeline straight to El Principe Tutul-Xiu, a well-known and popular restaurant. On this Sunday afternoon, the crowd was considerable and we had to queue for quite a while before getting a seat. While we waited, the classically-attired waiters carried plate after plate of poc-chuc right under our noses, and I was driven to a state of almost violent hunger.
Just as I had made up my mind to pounce, we were seated. Immediately, we ordered two portions of poc-chuc, sopa de lima and, allowing hunger to conquer judgement, an extra order of panuchos. Tutul-Xiu has been cranking out authentic Yucatecan food since 1973, and has expanded to Oxkutzcab and Mérida. The restaurant's popularity is well-deserved; not only was it the best poc-chuc I've had, but the prices are unbelievable considering the size of the portions. And the festive atmosphere inside the beautiful palapa is unbeatable. Tutul-Xiu, by the way, was the name of the Maya kingdom which encompassed Maní, Mayapan and Uxmal, at the time of the Spanish conquest.
Ah yes, the Spaniards. The peninsula's new rulers were never shy about committing atrocities against indigenous populations, but Maní was the scene of perhaps their most wanton. On July 12, 1562, Bishop Diego de Landa ordered an auto-da-fé here, burning every Maya book, idol, and codex that had been gathered from across the peninsula. With their strange and indecipherable symbols, he declared these works to be "of the devil". Thanks to a single religious crusader's closed-mindedness, practically the entirety of Maya literature was lost, irretrievably. Without de Landa's interference, our understanding of the ancient culture would be incalculably greater.
So I was in a combative mood when we visited the Convento de San Miguel Arcangel, built in 1549, in the center of Maní. But as much as I was hating on everything Catholic, the convent was so lovely and peaceful, my rage soon dissipated. We were all alone in the cavernous structure, free to wander at will through the courtyards and out into the back gardens. They might have brought ruin upon the Maya but, boy, do those Catholics know how to build a convent.
–Travel Insurance For Your Vacation To Mexico