The Cenotes of Valladolid
An inexhaustible number of cenotes riddle the limestone earth of the Yucatán Peninsula, but Valladolid is blessed with some of the most beautiful. In a single morning, we visited three, the first of which is right in the middle of town.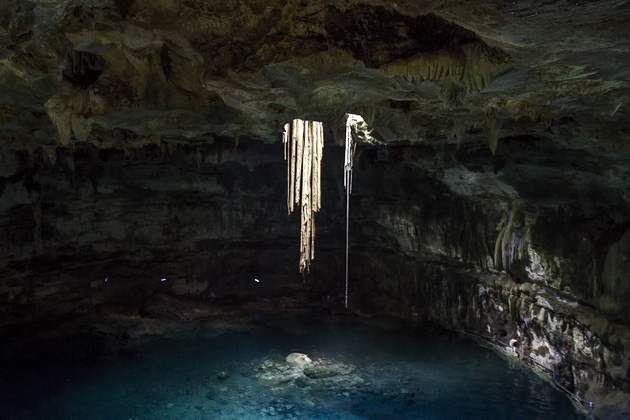 The Cenote Zaci takes its name from the Maya city on top of which Valladolid was founded. We visited after enjoying breakfast at the city market. Given its location in central Valladolid, I had expected a small pool, but this was a massive cave, shaded by trees and shrubs. We descended a set of stairs and felt as though we'd entered a lost jungle paradise, unable to believe that this gorgeous pool is in the middle of a busy city.
But it is in the middle of a busy city. Let's just say that, although it's technically allowed, I wouldn't want to swim at the Cenote Zaci. And the locals apparently agree. Despite the morning heat, there wasn't a single person in the water.
In the nearby town of Dzitnup are two of the Yucatán's most celebrated cenotes: Xkekén and Samulá. Dzitnup can be reached by bike from Valladolid; after the pleasant 20-minute ride, you can reward yourself with a cool swim. The two cenotes are right across the road from each other, and though you have to pay for each separately, both are worth seeing. We started at Samulá, which is famous for the dangling roots of the giant alamo tree that sits above it. Xkekén was perhaps even more stunning, a massive cavern with stalactites and crystal blue water.
Dzitnup is a popular bus stop on the well-established route between Cancún and Chichén Itzá, so the chances of finding its cenotes unoccupied are slim-to-none. They're extremely photogenic, but the crowds and ubiquitous vendors are off-putting. We stayed out of the water.
Locations on our Map: Cenote Zaci | Dzitnup
–Great Place To Stay In Valladolid