After 24 hours, we'd seen enough of Cancún and made our way to Isla Mujeres, just a half-hour by ferry off the coast. This island of around 12,000 people has made a name for itself as a sort of anti-Cancún. A place to relax, escape the crowds and bask in the simple joy of being on a gorgeous Caribbean island.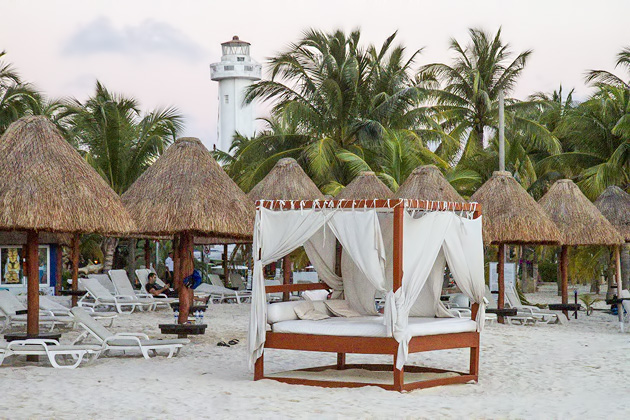 Named for the numerous Maya goddess statues which the Spanish found here, Isla Mujeres (Island of the Women) isn't exactly off the beaten path. In fact, we found it to be even more crowded with tourists than Cancún. But the vibe is totally different. People don't hang out in their hotels, but at beach bars and cozy downtown cafes. There are fewer drunken frat boys and more dreadlocked rasta boys. Isla Mujeres is just a lot cooler, a lot more relaxed.
The island is small enough to comfortably handle in a couple days, but most visitors stay longer. And plenty end up staying forever. Isla Mujeres is popular with wealthy American expats, which comes with both positive and negative aspects. Better restaurants and services, perhaps, but there's a palpable sense of pretentiousness. This isn't Cancún, but you'll still hear more English than Spanish on Isla Mujeres and, for all the hippy vibe, the best locations and properties are in the hands of rich foreigners. The locals have been shunted off farther south, farther inland.
We spent three nights on the island, which gave us plenty of time to see the highlights. Unfortunately the weather didn't play along; we had torrential rains and a lot of our sightseeing had to be cut short. But overall, we came away with a positive impression of the tiny island.