We weren't sure what to expect from the Eco-Museum of Cacao, found between the archaeological sites of Labná and Xlapak. Apart from a flier we'd picked up in a tourism office, we hadn't read a thing about it, and that's usually a bad sign. But the museum turned out to be excellent, with nicely-presented information, a chocolate-making demonstration, animals and even a re-creation of an ancient Maya rain ritual.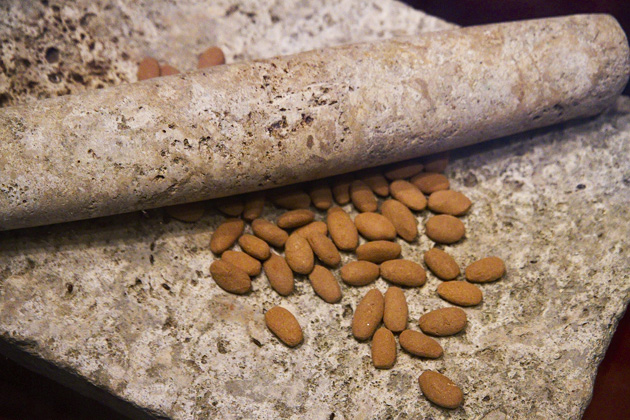 In a world of Hershey's and fine Belgian pralines, it's hard to remember that the West didn't even know about chocolate until the conquest of the Americas. When Christopher Columbus first encountered American natives, cacao beans were among the treasures he received as a gift. Ignorant to the magic contained within, he disregarded them completely. But the Europeans would learn and eventually come to consider themselves masters of a plant that won't even grow in their land. And here come the patents and the factories and the Cadbury and the Nestlé, and everyone's getting rich… except, of course, the Maya.
The word "chocolate" comes straight from the Mayan "Xoko-atl", or "hot water". In the Yucatán, it has always been a highly-venerated luxury, considered the food of the gods. The beans were even traded as currency; 100 could buy you a slave. The Yucatecan Maya were the first to develop cacao plantations, and consume their chocolate as a drink. After roasting and grinding the beans, the powder was brought to bubble over fire and then made frothy by either blowing into it or stirring it violently.
The Eco-Museum, located on the grounds of the working still-operating Tikal Cacao Plantation, presents this information in a series of lovely thatch-roofed huts that lead into the jungle. Midway through, we had a chance to see a Maya ritual to honor the rain god. It began with just a single man blowing into a conch shell. These noises were echoed from the woods surrounding us, and soon five other musicians emerged from the trees to join their leader at the altar. Their ensuing performance was bizarre and riveting.
In the final hut, we got to see how the Maya prepared their favorite drink, and then sample it. It was a great conclusion to a museum we really loved. A definite highlight of our trip along the Ruta Puuc.