The Howler Monkeys of Punta Laguna
Found twenty minutes from Cobá, down a horrific road pockmarked with crater-sized pot holes, we found the natural reserve of Punta Laguna. This protected national park receives few visitors, despite its beauty and the irresistible lure of howler and spider monkeys.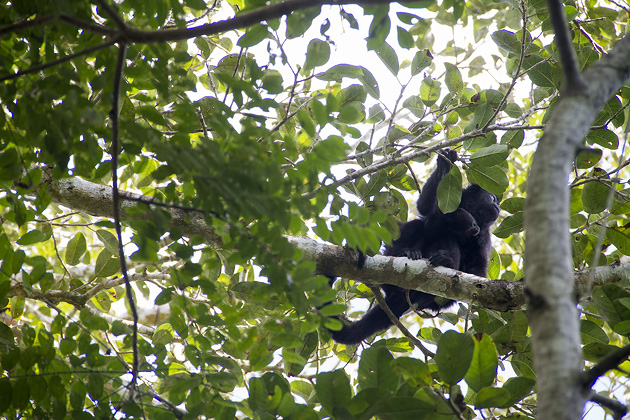 After pulling into the park entrance, we agreed to a reasonably-priced tour of Punta Laguna. The primary focus of our two-hour walk through the woods would be tracking and finding monkeys. We followed our guide, Julio, into the jungle, tracing his steps through a bewildering network of paths that almost seemed designed to confuse. You can visit Punta Laguna without a guide, but I would caution against this — the jungle quickly becomes disorienting, and it's unlikely we could have made it back to the starting point on our own.
Before long, we heard a rustling high in the trees overhead. A monkey-like rustling. "There," whispered Julio. "Howlers." A big group had appeared directly above us, eating fruits and leaping from one tree to another. Julio recognized the pack; it was a family who had recently welcomed a new addition. We spotted the mother as she was moving down to a lower branch, with her baby, just a week old, clutching on for dear life. She stayed on the lower branch for awhile, giving us a great look at the infant, who had crawled up and around onto her head.
We hiked to the lake which gives Punta Laguna its name, where you can camp and rent canoe boats. Humans rarely reach the jungle on the far side, so this is where the jaguars tend to stay. We visited a cave where a pack of spider monkeys congregates every evening, but it was too early and nobody was home.
So, we didn't see any spider monkeys, but couldn't complain much. With the sighting of the baby howler, the excursion had already been an unqualified success. Although it was fun to have the whole place to ourselves, we hope that word about Punta Laguna spreads. The more people who visit this amazing reserve in the middle of the jungle, the better.