The Azulik Hotel in Tulum
Located in the Tulum National Park, the Azulik Hotel hosted us for our five day trip to the region. Built atop a natural hill, each cabaña boasts a vista over the shimmering azure waters of the Caribbean, and we couldn't have hoped for a better home away from home.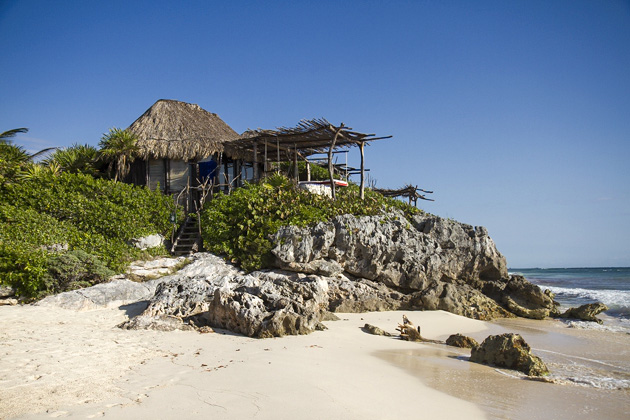 Because of its location within the borders of a national park which is frequented by sea turtles, there is no electricity in any of Azulik's cabañas. Candlelight all the way. Though it's tempting to see this as an annoyance, it doesn't take long to realize that it's actually among Azulik's chief benefits. No electricity means no TVs. No radios blasting from the neighboring hut. No opportunity to flip open the laptop and work. No entertainment other than sitting on the patio with a bottle of wine and the starry night sky.
An adults-only establishment, Azulik sells itself as a romantic getaway for couples, so there won't be any screaming kids terrorizing your vacation. The hotel offers yoga and reiki sessions, massages and temazcal, and you can even hold your wedding here.
We stuck to the same schedule for every night of our stay in Azulik. Dinner, followed by a long bath in the wooden tub. Then sitting together on the terrace, chatting about the day or star-gazing in silence. And finally stretching out on the bed, and allowing the sound of the waves to carry us off into sleep. It's relaxing just to remember it. The Azulik is a perfectly romantic place to escape from the stress of your regular life.