Memorably set on a bluff overlooking the turquoise waters of the Caribbean, the ruins of Tulum are perhaps the most picturesque on the peninsula. The site itself is small and compact, and none of the surviving buildings are particularly large, but this doesn't make the place any less impressive.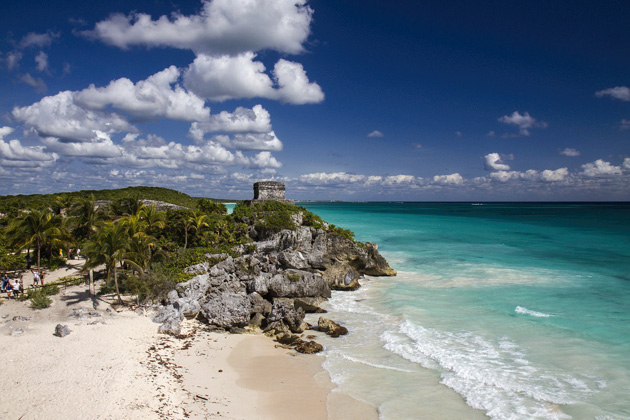 The archaeological zone can be extremely crowded, especially on a sunny day like the one we chose for our visit. To view certain buildings, or take a picture from the designated vista panorámica, we were even forced to queue up. But that was alright. It was a beautiful day and the ruins were so lovely that not even hordes of other tourists could spoil our moods.
All the buildings in Tulum are small, which was by design. Just as at Cozumel's San Gervasio, the Maya knew better than to build huge pyramids in zones regularly afflicted by hurricanes. Unfortunately, visitors are kept well away from any of the ruins. Climbing around on them is strictly prohibited, and you can't even get close enough to look inside. This is particularly frustrating at the Templo de las Pinturas, which contains amazing interior murals.
But the exterior detail on many of the buildings is also stunning, and the best part of Tulum has nothing to do with antique masonry at all. At the foot of the site, there's a gorgeous public beach. Bring swimsuits and a towel, and you can swim in pristine water with the ruins of Tulum rising majestically on the cliffs above you.