Dzibilchaltún – The City of Writing on the Rocks
The longest continuously-inhabited Maya city on the peninsula, the site of Dzibilchaltún is found just a few minutes outside of Mérida. The Maya occupied this spot from roughly 500 BC to AD 1500, and left behind ruins which, though badly eroded, are a wonder to behold.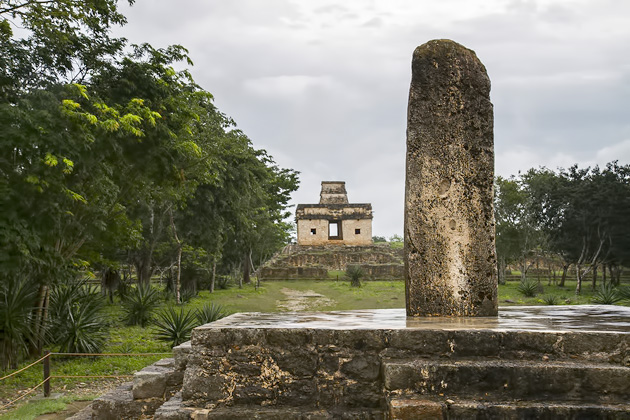 Dzibilchaltún means "City of Writing on the Rocks", and was the name bestowed by the Spanish in 1689. Only recently did archaeologists uncover the original name of the city, Ch'iy Chan Ti'Ho, but the Spaniards picked a suitable replacement; although today the detail has been lost from most of the ruins, this was indeed a place in which the Maya did a lot of writing on rocks. A couple of the more important stele, or hieroglyph-inscribed columns, have been preserved in the onsite museum.
Having just visited the Casa Catherwood, we were in high spirits for our visit to Dzibilchaltún. The ruins are fascinating, particularly the Templo de Siete Muñecas. Found at the end of the town's main sacbé, or road, this temple is named for seven small clay dolls which were buried inside, presumably as an offering. The building was probably built as an observatory; it's aligned so that, during the spring equinox, the sun will appear to rise through its doors.
Not far from the temple, we found the ruins of an entire city, including remnants of houses and even a pyramid which we were able to ascend for a view over the forest canopy. You can hire a guide to introduce the various features of the city; we passed on this, but were second-guessing our decision throughout the day. There isn't a lot of explanation on the ground and it would have been nice to have an expert on-hand to point out the different facets of the ruins.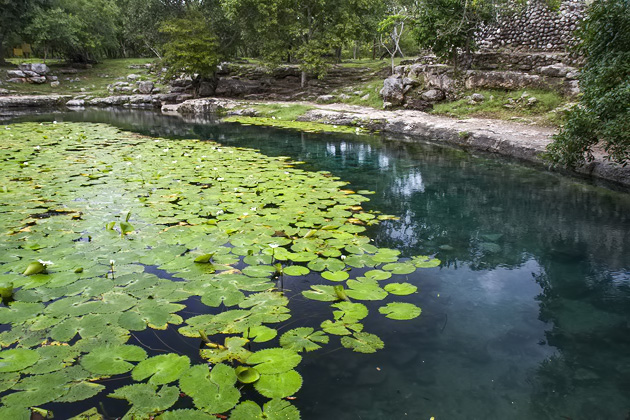 One area for which we needed no explanation was the Xlacah Cenote. Hundreds of cenotes pockmark the Yucatán Peninsula, but this was the first we had seen. These pools are the result of sunken caverns or sinkholes in the limestone terrain, which have filled with fresh water from underground cisterns. They're popular places for swimming, and were historically used as a clean water source.
Apart from the ruins and the cenote, Dzibilchaltún has an excellent museum preserving some of the relics found here, such as the seven clay dolls from the temple. We spent almost as much time in the museum as out among the ruins. Less than twenty kilometers from the city center, Dzibilchaltún makes for an easy day trip from Mérida.