For 91 Days,
we lived in the Yucatán. Although we were based in the capital, Mérida, we visited the entire peninsula, from Cancún to Cozumel, Valladolid to Campeche. Whether you're planning your own journey to the Yucatán, or are just interested in seeing what makes it such a special place, our articles and photographs might help you out. Start
at the beginning
of our adventures, visit our
comprehensive index
to find something specific, or choose one of the articles selected at random, below:
The Hats of Bécal

The statue of two monumental Panama hats which reigns supreme in the center of Bécal's main plaza is strange, but leaves little doubt as to the town's claim to fame. Found about an hour south of Mérida, Bécal is best known for its traditional hats made of jipi….
Feb 03, 2014
Christmas in the Yucatán

Although speeding toward a depressing hegemony, most of the world's Christian countries still maintain some yuletide traditions that are all their own. Jürgen and I aren't big Christmas freaks, but we do enjoy learning how different places put their unique spin on the holidays….
Jan 12, 2014
Puerto Morelos: Chilling in the Shadow of Cancún

After a week in Mérida, we took our first road trip, venturing east to the neighboring state of Quintana Roo. But unlike the majority of visitors to Mexico's Caribbean coast, our destination wasn't the party mecca of Cancún. Instead, we hopped a bus headed for the quiet village of Puerto Morelos, about a half hour south….
Dec 04, 2013
We spent three months in the Yucatán peninsula, visiting ancient Maya ruins, taking trips to the beach, learning the art of scuba, swimming in cenotes, eating incredible cuisine, and meeting some of the friendliest people we've ever encountered. Let's just say, it wasn't among our "most challenging" 91-day excursions. But it was definitely among our most pleasurable.
We've now collected our blog into an e-book for your Kindle, Nook or other e-reader. With over 100 articles and 200 full-color photos, indexed alphabetically and by category, this portable edition is perfect for when you're out and about in the Yucatán. Whether you plan on sticking to the beaches, exploring ruins like Chichén Itzá or Uxmal, visiting out-of-the-way villages, or just getting to know a different part of the world, we hope that our experiences can help enrich your own.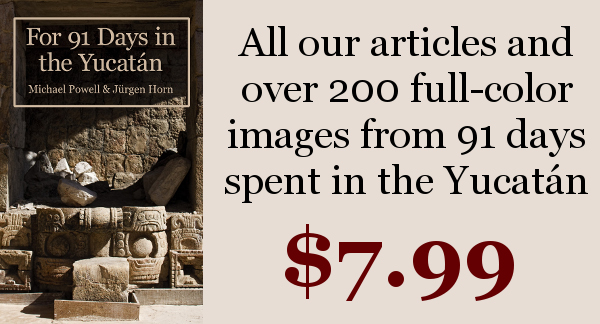 For just a few bucks, you can download your own copy of the book for use on your e-reader or computer, giving you access to our articles wherever you are, without having to connect to the internet. And, buying the e-book is a great way to support our project… take a look at some sample pages from the PDF.