Our Favorite Yucatecan Food
Featuring a lot of Maya-influenced dishes that aren't found across the rest of Mexico, Yucatecan cooking was nothing like we had been expecting. From street markets to sit-down restaurants, from snacks to desserts, from breakfast to dinner, we never tired of eating, and these were some of our favorite plates: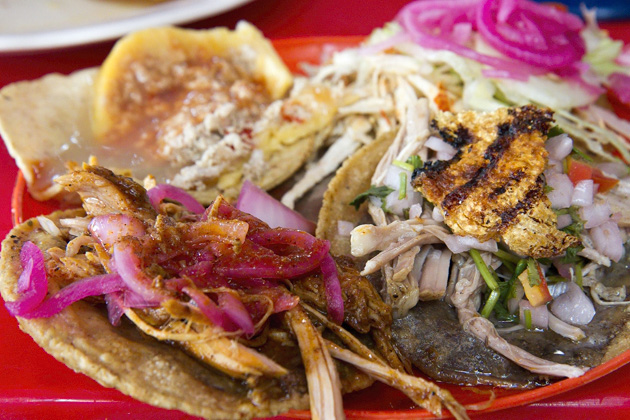 Panuchos and Salbutes
Panuchos and salbutes were by far our favorite Yucatecan antojitos (appetizers or "little cravings"). Salbutes are deep-fried tortillas topped with tomato, pickled onion, avocado and jalapeño, and pulled chicken marinated in annatto. Seriously, read that description again: how can that not be amazing? Perhaps a better question is, how could it be made even better? Try cutting open the tortilla prior to frying, and filling it with refried beans. Say hello to the panucho. And now say goodbye, because it's already halfway down my gullet.
Poc-Chuc
One of the best-known Yucatecan dishes is poc-chuc, a simple but wonderful plate of marinated pork slices. After soaking for a couple hours in a mixture of sour orange and annatto paste, the meat lands on the grill and is then served with tortillas, rice and vegetables. Done right, the pork is juicy and tangy, and when you wrap it up in a tortilla with a bit of spicy habanero sauce and a few drops of fresh lime juice, absolutely delicious.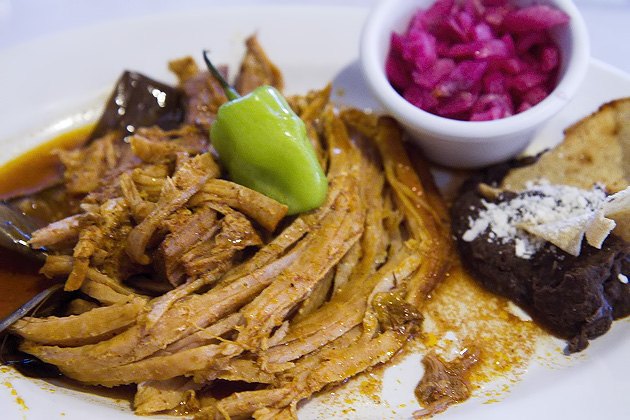 Cochinita Pibil
When we asked locals about their favorite food, the most commonly-given answer was Cochinita Pibil. This slow-roasted pork dish is a weekend favorite in households throughout the peninsula. The name is a marriage of Spanish and Mayan words, meaning literally "buried piglet". Traditionally, a suckling pig is marinated in bitter orange, wrapped in banana leaves and buried in a fire pit for a couple hours. I loved this dish, and would order this almost every time I saw it on the menu.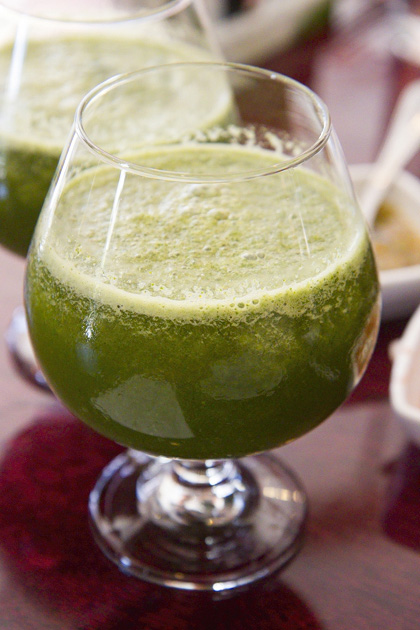 Chaya
Before moving to the Yucatán, I'd never come across or even heard of the plant called Chaya. A cousin of spinach, chaya is a staple of the Yucatecan diet, forming the base for some of the peninsula's favorite drinks, soups and meals. Packed with proteins, vitamins and antioxidants, chaya is a wonder-food, and we frequently ordered glasses of Chaya-Pineapple or Chaya-Lemon drinks. Also delicious is the rich crema de chaya soup found on the menu of most Yucatecan restaurants. If you want to eat chaya at home, though, just make sure to cook it well. When consumed raw, it can be poisonous.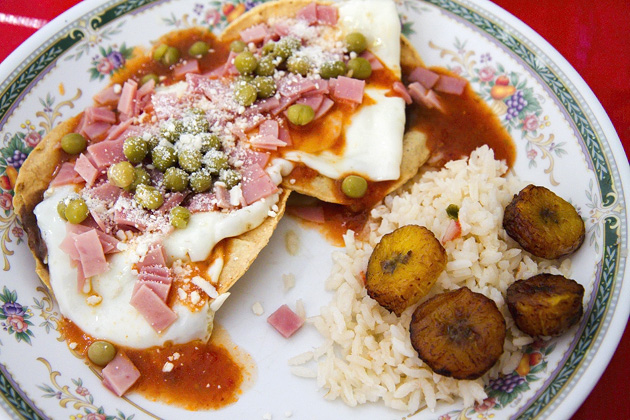 Huevos Motuleños
Jürgen and I aren't normally big breakfast eaters, but we made a few exceptions while in the Yucatán. Apart from a couple delicious affairs with chilaquiles, we stayed faithful to Huevos Motuleños. Allow your imagination to picture this dish being prepared: refried beans spread across the plate, then topped with a fried tortilla. Then two eggs cooked over easy are laid on top. And then another fried tortilla, over which tomato sauce is poured, and then the whole mountain is topped with cheese, ham and peas. Is your stomach growling? Is your ticket to the Yucatán booked?! Huevos Motuleños are reason enough to visit.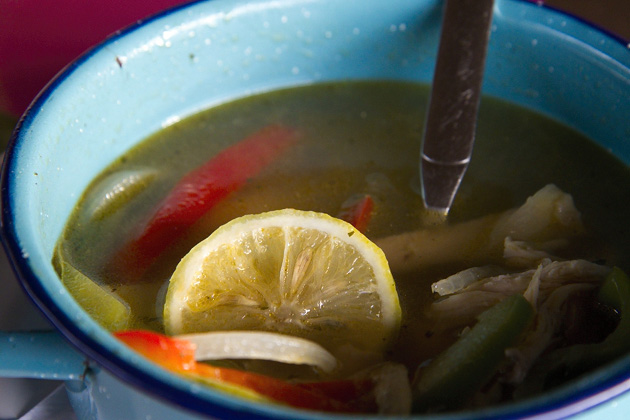 Sopa de Lima
Sometimes, just the name of a meal is enough to get me salivating. Filet mingon… baby-back ribs… coconut shrimp… mmmmm. And then there's Lime Soup. But although it sounds more like a punishment than a meal, sopa de lima was the dish we most often ordered, because Jürgen was an addict. Every time we ate out, there'd be a steaming bowl of sopa de lima on our table. A blend of chicken broth, lime juice, veggies and chicken, it's amazing when done right, but quality varies wildly… for a consistently good bowl try La Vida Catrina or Chaya Maya.