During the Yucatán's henequen boom, there were close to a thousand haciendas (plantations) in operation across the state. Today, they're nearly all in ruins. And in the area surrounding Mérida, only one still manufactures henequen: Sotuta de Peon. We joined a tour of the hacienda which led us through a mansion, the factory, a Maya house in the agave fields, a cenote, and ended at a restaurant serving up Yucatecan specialties.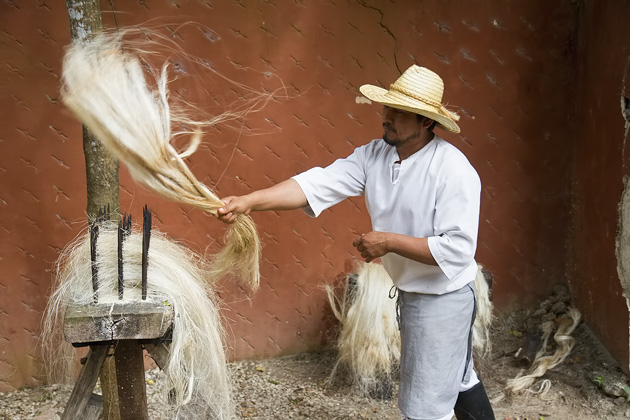 Our tour started in the hacienda's main residence, which was filled with antique furniture and framed, faded photographs of the family who once lived here. Like all other henequen plantations, Sotuta de Peon closed up shop after the introduction of synthetic fibers in the mid-twentieth century. It was only recently purchased by a local businessman, renovated and restored to working operations.
Outside the mansion, we were introduced to the henequen-making process. The fiber comes from the leaves of an agave plant, similar to that which produces tequila. We saw both the old, labor-intensive method for producing the fiber and then moved to the more modern machinery. I use the term "modern" in a relative sense; these massive, roaring machines date from the early 1900s. We watched as stacks of henequen leaves were deposited into the machine, which broke them and "combed" the fiber out of the plant's flesh.
Next, we boarded a cart hitched to a mule and set off into the fields where, at the top of a hill, Don Antonio was awaiting us in his palapa. He's been living and working at Sotuta de Peon for most of his life and, since retiring from field work, has become a part of the hacienda's tour. After explaining the process of cutting henequen, he showed us around his home, expressing his wonder and gratitude about his lot in life. Years ago as a simple henequen cutter, he couldn't have imagined that he'd ever meet so many people from all around the world, and he seemed as interested in us as we were in him.
After saying "ka'a xi'itech" to our new friend, another short mule ride brought us to Sotuta de Peon's cenote, where we had an hour to swim and enjoy a drink at the mobile "Wagon Bar". The water was warm, and the underground cenote was more beautiful than we had expected. During our three months in the Yucatán, we saw many cenotes, and kept waiting for one to disappoint us. But it never happened.
Our tour ended with lunch in the hacienda's restaurant. The food was excellent, and the prices reasonable. The tour itself, in fact, is a major bargain considering everything that it entails. If you have time to visit just a single hacienda during your time in the Yucatán, you'd be well-advised to make it the Sotuta de Peon.
Sotuta de Peon – Website
–Download Our Travel Books Here