We spent two nights in Valladolid, the second city of the Yucatán state. Found two hours due east of Mérida, near Chichén Itzá, it's a magical place… and that's official. In 2006, Mexico added Valladolid to its honorary list of Pueblos Mágicos, only the second town in the Yucatán to win the honor, after Izamal.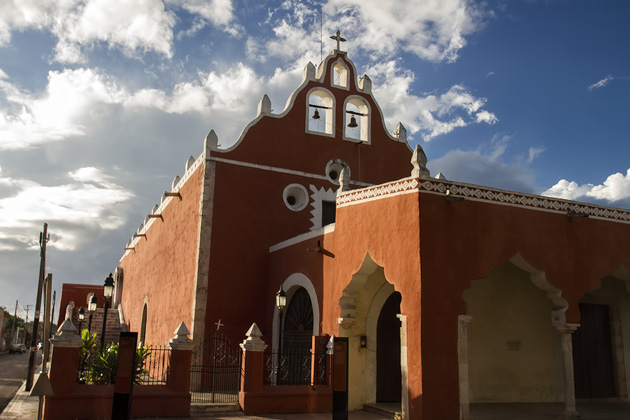 Our base of operations during our stay in Valladolid was Casa Hamaca, a Maya-themed hotel a few blocks south of the Plaza Grande. True to its name, each of the rooms has a hammock if you want to stretch out. And the downstairs bar is a great place to relax and chat with the owner, an expat from North Dakota who has lived here for years and can offer great advice on the area.
Valladolid was founded in the 1540s, on top of the former Maya town of Zaci. Its somewhat isolated location and proximity to the important sites of Chichén Itzá and Ek Balam have historically made it the target of a lot of indigenous aggression. In 1848, Maya rebels even managed to take total control of the town, slaughtering or forcibly removing anyone of European descent.
Things are more peaceful today, and Valladolid has earned a well-deserved status as one of the Yucatán's most beautiful cities. Found on the road between Chichen Itzá and Cancún, there's a constant stream of tour buses pouring into the place. Apparently, Valladolid only rates a "Quick Stop" on the standard itinerary. We sat at a cafe on the corner of the Plaza Grande, watching each bus unload its frantic passengers. They were given just enough time to run off the bus toward the cathedral, snap a few pictures, and then sprint across the plaza for a picture of the Palacio Municipal, before running back to the bus. (A considerable number skipped the sight-seeing, and instead made a beeline to the tequila bar next to us).
The upside of this speed-tourism is that the rest of Valladolid is reserved for those who have more time. And with some of the Yucatán's best cenotes, beautiful little plazas, an amazing convent, and an agreeably slow-paced atmosphere, this is the kind of town which rewards those who linger.
–Use Bitcoins To Buy One Of Our Travel eBooks