With a historic center that's been protected for centuries by an impenetrable set of fortifications, Campeche has a reputation as one of Mexico's most beautiful cities. We were completely won over by its picturesque charm, during a two-day excursion from Mérida.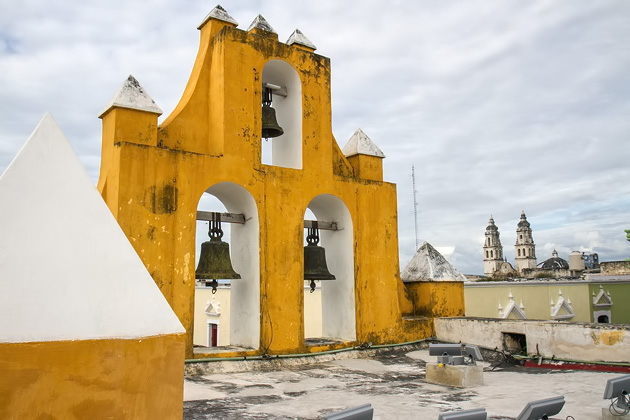 Campeche was founded in 1540, on the site of a Maya city called Kinpech. Almost right away, the new Spanish settlement drew the attention of pirates who were operating in the Gulf of Mexico and Caribbean. Among the many who sacked Campeche, some big names appear… Henry Morgan, Roche Braziliano, John Hawkins, Francis Drake. Pirate League All-Stars! Their villainy was relentless; as soon as Campeche had recovered from one attack, the next would begin.
Things came to a head between 1663 and 1667, when the city was sacked almost without pause, the people terrorized and butchered by ever more greedy and bloodthirsty pirates. Finally, the Campechanos demanded that their Spanish rulers build a set of walls. Completed in 1702, the fortifications were successful in protecting the city from further assaults, and the real-life Pirates of the Caribbean moved on to easier fare.
Campeche's historic town center is still defined by its life-saving fortifications. Seven of the eight balustrades remain standing, and a couple sections of the walls can be visited. The city has spread out far beyond its original size, but the fortified area remains the center of life, home to most of the touristic sights, with a charming colonial atmosphere that's out-of-step with hectic modern Mexico. The cobblestone streets in a checkerboard layout, the thoughtfully-restored Baroque houses, and the walls themselves led UNESCO to declare Campeche a World Heritage Site in 2007.
We were visiting just before the New Year, while the town was still in the throes of its Christmas celebrations. The main plaza was lit up dazzlingly, and the atmosphere was so festive it bordered on insane. Noise and lights are always fun, but in Campeche we most enjoyed the quieter side of things; strolling along gorgeous colonial streets, drinking a beer on a balcony overlooking the plaza, or sitting by the ocean while the sun disappeared behind the Gulf. Simply put, this is a lovely city; the two days we spent here weren't nearly enough.