The statue of two monumental Panama hats which reigns supreme in the center of Bécal's main plaza is strange, but leaves little doubt as to the town's claim to fame. Found about an hour south of Mérida, Bécal is best known for its traditional hats made of jipi.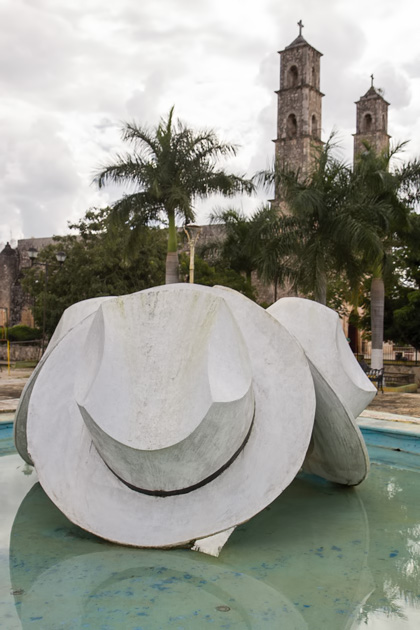 We made a day trip to Bécal in order to see how the hats are made. The jipi is a type of palm tree from Guatemala. Here in the Yucatán, the weather is much drier and hotter than in the Guatemalan highlands, leaving the jipi fibers too brittle to weave into hats. To work around this, the artisans of Bécal work their magic in both natural and man-made caves, most often found in their backyards.
It took no time at all for us to find one of these caves. A foreign face in Bécal usually means just one thing, and we quickly had people offering to introduce us to their hat-making friends. Minutes after stepping off the bus, we were crouched inside an artificial cave in some guy's yard, watching him weave a child-size hat.
The thinner the fiber, the higher quality of the hat, and the best require over two weeks to finish. It was fun to watch his fingers weave strand over strand with incredible speed and dexterity. After he had shown us how it's done, we followed him into his shop. I'm not the kind of guy who can successfully pull off a Panama hat, and they weren't all that cheap, but we bought one anyway. We kind of had to.
–Download Our Travel Books Here