A Creepy Day in Río Lagartos
A small town on the northern tip of the Yucatán Peninsula, Río Lagartos is most well-known for the abundant bird life of its lagoon, a protected natural reserve which is named, somewhat confusingly, Ría Lagartos. But unpleasant weather during our visit spoiled any bird-watching plans we might have had. (Which was fine, since we didn't really have any).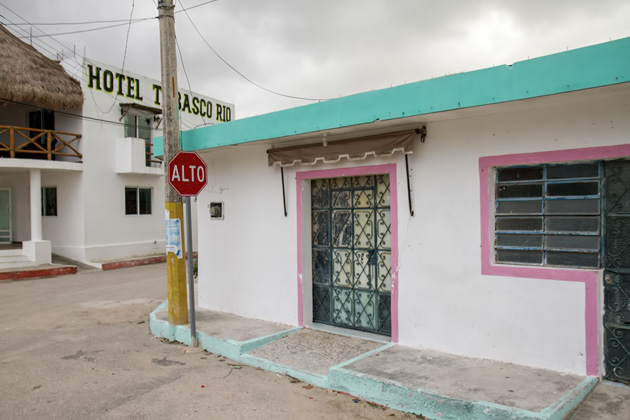 After arriving in the evening, we immediately noticed something strange about Río Lagartos: an almost complete lack of people. This is supposedly a town of 2000 souls, but the streets were empty. The stores and restaurants closed. The boats anchored along the shore untended. Fine, the weather was bad, but the level of abandonment made me suspicious. Apart from the woman who checked us into our hotel, we hadn't seen a single person. And even she had seemed a little… off. A little too dim-witted, perhaps. Her movements a little too wooden. Her eyes a little too hungry.
The brewing storm didn't help us feel any safer. We walked up and down the main, ocean-side road, and eventually found the only place in town serving food. Inside, a rowdy group of men were passing around bottles of rum. Sailors by the looks of them, and now I was certain we had landed in a zombie movie. This restaurant would be the place of our first bloody encounter, and we were about to watch a lovable group of drunk oafs have their heads ripped off. Lovable drunk oafs are always the first to die.
We waited, fork and knife clenched in hand, but nothing happened. The sailors said goodbye and stumbled out of the bar. We were served a delicious dinner of fresh fish and shrimp. And we went back to our hotel where our vacant receptionist was watching a telenovela and didn't even look up to say "good night".
The next day the weather had not improved and we skipped on a tour of the reserve, which is the only reason to visit Río Lagartos in the first place. Anyway, it's supposed to be similar to the tour we took of Celestun. We walked around the town long enough to verify that it was still lifeless and then hopped in the car, happy to put creepy Río Lagartos in the rearview.