The tiny Gulf Coast town of Celestún was about as remote as possible, but to reach our hotel, we had to continue past its final shack and along a ridiculously bumpy dirt road for another half hour before reaching our hotel. Xixim is truly the back of beyond, and when we pulled into the parking lot, we knew the wearying trek was about to pay off.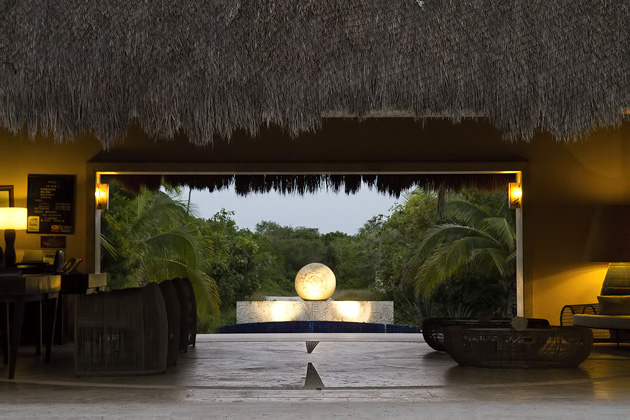 More than just a simple hotel, Xixim resembles a reconstructed Maya village. Guests gets their own deluxe Maya-style thatch-roofed hut, complete with a hammock on the porch, welcome cocktails in coconut shells, and comfortable beds outfitted with mosquito nets. During our stay, we felt completely disconnected from the outside world. Which was exactly what we wanted.
Jürgen was still recovering from dengue, so our stay in Xixim couldn't have been more perfectly timed. This is an ideal place for relaxation. We spent our time moving from the beds to the hammocks, over to the pool or the beach. When it was time to eat, we'd wander into the restaurant found in a massive palapa, and then head back to our hut for sleep. All the while, we were kept company by the sounds of the jungle and wetlands surrounding us.
Xixim is totally off the beaten path, which is its main selling point. When you pass flamingos on your way in, you know you're in the middle of nowhere. With a friendly and helpful staff, an excellent restaurant, speedy wifi, enough on-site activities to occupy even a long stay, and those wonderful huts, Xixim offers a unique place to enjoy an extended, disconnected vacation.
Hotel Xixim – Website
–Best Prices For Car Rentals In The Yucatan