The San Bernardino Convent in Valladolid
The Calle de los Frailes, or the Street of the Friars, cuts diagonally across Valladolid, completely ignoring the otherwise strict grid-plan. A little fresh, but we'll allow it. This is one of the Valladolid's most historic streets, home to specialty shops and popular restaurants, and it ends at the steps of the San Bernadino Convent.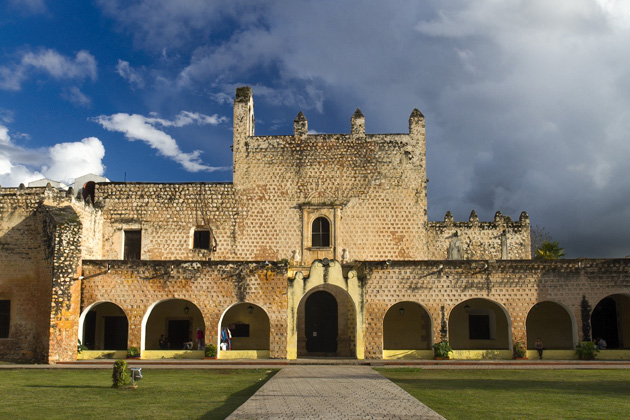 Construction started on the San Bernardino in 1552, under the auspices of Franciscan monks who had settled in the newly-formed city. Local Maya laborers were politely asked to help build the immense convent, and were happy to do so, as they were well-paid for their efforts. (Or, was it that they were obligated to work like slaves, and then forcibly converted to a foreign religion under threat of torture… I can't remember.) Today the convent serves as both a church and a museum.
During the Caste Wars of the nineteenth century, the San Bernardino was repeatedly attacked and lost much of its priceless artwork. But inside, you can still find a few surviving paintings, as well as weapons from the war recovered from the large cenote that sits directly underneath the building. The water of this cenote was used in the convent's kitchen and bathrooms, and was extracted using a large stone waterwheel which can still be seen in the unkempt back garden.
In front of the San Bernardino is a large flat park which, when we visited, was being used as a soccer pitch by a group of local kids. It was early in the evening, and the whole place was conspicuously quiet, especially in comparison to the jam-packed Plaza Grande of Valladolid. The convent is apparently just far enough outside the town center to discourage most tourists, but don't let the distance discourage you. This was among our favorite places in the city.
-Where we stayed in Valladolid: Casa Hamaca